The holiday season is just around the corner, and it's the perfect time to transform your home into a festive wonderland. Whether you're hosting a cozy gathering or simply want to immerse yourself in the joyous spirit of Christmas, these three exquisite trends in home decor are sure to bring warmth, elegance, and a touch of enchantment to your space.
Rustic Yuletide: Embracing the Nostalgic Charm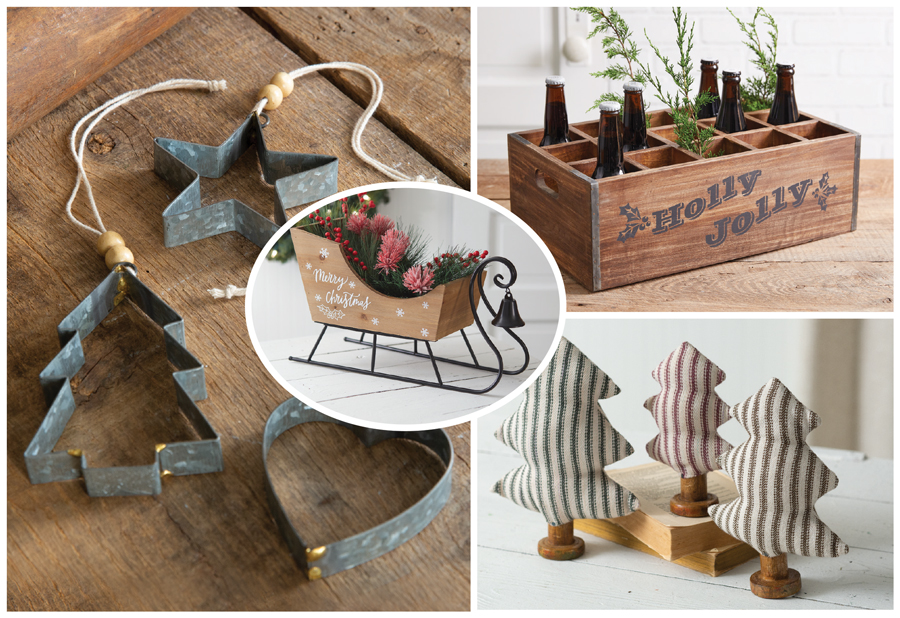 There's something timeless about the rustic allure of a traditional Christmas. This trend takes you back to the heartwarming beauty of a countryside holiday retreat. Think natural textures, warm wooden tones, and a dash of vintage elegance. One way to bring the Rustic Yuletide trend into your home is with Wooden Accents: Incorporate wooden ornaments, candleholders, and centerpiece trays. The earthy feel of wood creates an inviting atmosphere, bringing the essence of the outdoors inside.
Items pictures are Set of Three Metal Cookie Cutter Ornaments, Tabletop Wooden Sleigh with Bell, Holly Jolly Divided Crate, and Set of Three Stuffed Christmas Trees.
Frosty Holidays: Elegance in Icy Hues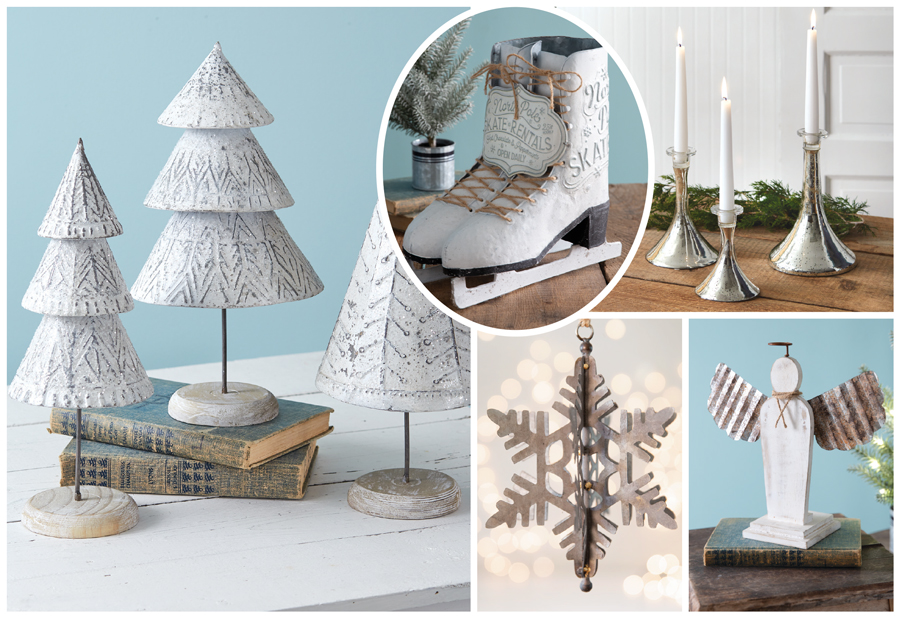 For those who adore the beauty of winter's chill, the Frosty Holidays trend is a must. This trend is all about elegant simplicity, with a focus on icy blues, shimmering golds, and glistening whites. A suggestion to capture the essence of a winter wonderland in your home is using metallic accents such as mercury glass candleholders, gold-trimmed ornaments, and white accents. These reflective elements add a touch of glamour and sophistication.
Items pictures are Winter Wonderland Tabletop Tree, Decorative Ice Skate Rental Boots, Set of Three Silver Mercury Glass Taper Candle Holders, Blizzard Snowflake Ornament, and Rustic Tabletop Angel.
Babes in Toyland: Fun & Lighthearted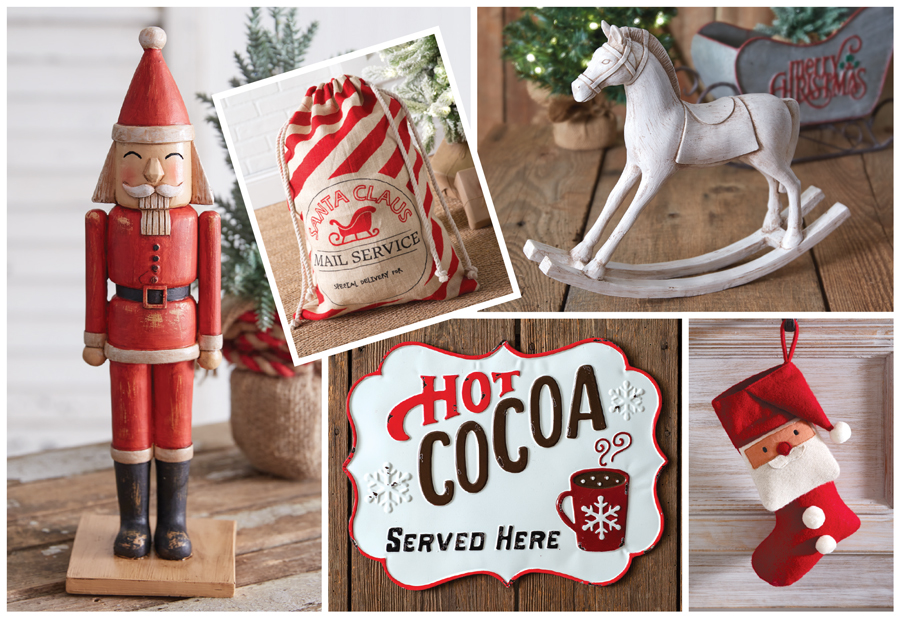 Step into a world of pure holiday enchantment, where the whimsical charm of cherished childhood memories comes to life and imagination knows no bounds. This trend is all about unleashing your inner child. Adorn your space with unique nutcrackers, nostalgic rocking horses, and Santa of course! Traditional Christmas colors with vintage-inspired details capture this trend perfectly. Make the holidays magic and unforgettable for kids of all ages with this storybook trend that never gets old.
Items pictures are Santa Nutcracker Figurine, Santa Claus Mail Service Toy Sack, Tabletop Rocking Horse Figurine, Hot Cocoa Wall Sign, and Santa Claus Christmas Stocking.
---
CTW Home Collection is a unique designer, importer, and distributor of retro, french-country, farmhouse and vintage-inspired wares for the home. One of our goals is to offer great wholesale home decor and gift items at competitive prices and to help our retail partners succeed in their retail businesses.